January 17, 2023

A Recap of Recent Significant Developments
Wireless camera technology for sports, entertainment, and roving news applications has remained largely unchanged for more than a decade. Solutions have primarily been built around two different technologies: microwave links and bonded cellular.
Solutions using private microwave links have become a familiar sight at major sports and entertainment live TV productions. They are characterized by their ability to deliver uncontended, ultra-low latency, highest video quality video transmission. This enables immersive and unique visual perspectives that are only possible because of support for wireless cameras that are free to roam during events.
Bonded cellular-based wireless camera devices are newer to the scene, with their capabilities growing as cellular technology has evolved through 3G, 4G and now 5G. They first showcased their ability to provide bidirectional video connectivity from almost any populated location during the London 2012 Olympics. Bonded cellular camera solutions have enabled broadcast teams to arrive on location and begin broadcasting in moments without the need for any additional infrastructure.
Whilst each technology has proven its worth, both solutions have limitations. The private microwave solutions based on OFDM technology can require additional RF infrastructure to implement two-way connectivity, making connectivity into the deployment of IP based broadcast and remote production networks more challenging.
Bonded cellular systems are known to struggle in providing high data rate connectivity in highly populated areas where the cellular networks are operating at capacity. Latencies can be variable, creating challenges to synchronizing bonded cellular content with other video feeds.
The Appeal of Private 5G: the Best of Two Technology Worlds
Beginning in 2021, Vislink began investigating whether emerging private 5G networks could deliver the best properties of both existing roaming camera solutions while providing greater flexibility.
Public 5G cellular networks have been rolling out across the globe for quite a number of years and have been accompanied by much industry and consumer hype during that time. For wireless camera systems, public 5G networks in their current form are not ideal for roaming broadcast applications.
Most public networks are tailored to deliver maximum downlink data rates and are well-suited to applications like allowing consumers to view high quality streaming video. Broadcast camera systems, by contrast, need to deliver high uplink data rates. End-to-end latencies remain high for many public 5G implementations, due to having been built on top of 4G non-standalone network cores.
Private 5G networks can be deployed without the impediment of having to integrate into legacy cellular standalone network infrastructure. They can be biased towards high uplink rates and low latencies. Notably, they can also be portable.
MotoGP 5G Trial 2021
In the summer of 2021, Vislink was invited to participate in an exciting real-world test: the first trial of a 5G private network camera system of the premier MotoGP racing circuit. The trial was produced with the support of Dorna Sports (owners of the MotoGP motorcycle racing series), broadcaster BT Sport and Neutral Wireless (a technology spinoff from the University of Strathclyde that had been researching innovative ways to configure, optimize and deploy a private 5G core and radio system.)
For the project, Vislink created a prototype 5G wireless camera system that interfaced to its existing popular HCAM OFDM camera transmitter. Vislink was able to fit the prototype 5G transmitter to cameras that were providing roaming coverage from the pit lane. A second 5G transmitter was fitted to one of the race bikes, demonstrating the ability to deliver high-quality video from the bike while moving at high speeds.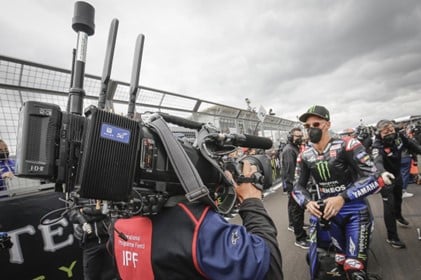 Vislink 5G transmitter mounted to a broadcast camera for MotoGP pit lane coverage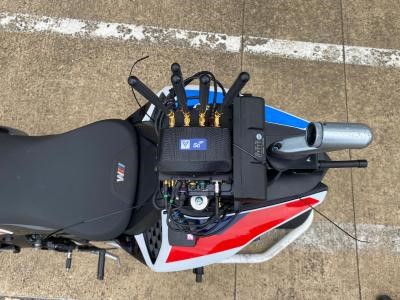 Vislink 5G transmitter mounted to a MotoGP motorbike
While this was a private test, with none of the content shown on-air, the test validated the capabilities of the technology and proved that high uplink data rates were possible. In addition, extensive information about optimum antenna position was gathered that will be invaluable in future similar projects and actual deployments.
The success of the MotoGP test led Vislink to research how the technology could be applied to commercial applications and led a new development phase.
Vislink set about creating a new 5G transmitter that would be closely coupled to Vislink's existing HCAM wireless camera transmitter. With prototypes completed, Vislink sought a venue to showcase its innovations.
Saracens Rugby 5G Trial 2022
An opportunity arose at the invitation of BT Sport to use the new device at a Saracen's rugby game in London in the spring of 2022. Partnering with Neutral Wireless to provide the 5G cell, it successfully showed that it was possible to capture content from the touchline of the game — and simulcast the camera content with both classic OFDM modulation and in 5G.
Vislink wireless camera equipment capturing action from the Saracens Rugby match
The key takeaway from this event was that the 5G system was able to deliver the same critical benefits as the tried and trusted OFDM system, namely low latency, high-quality video with robust connectivity that was undisturbed by the cellular connections of the mass spectators' mobile devices.
With the 5G IP-native solution proving highly reliable, the event director had the confidence to use the 5G camera feeds in the live program content — making this test and this event the world's first 5G wireless camera live transmission.
Wireless camera applications are not restricted to capturing live feeds from the sidelines of sporting events. Modern sports news reporting takes place both inside and outside of stadiums and arenas. Entertainment and public interest programming relies heavily on roaming camera deployments, often utilizing bonded cellular technology to deliver the freedom to broadcast from almost any populated location.
With Vislink having added field-proven bonded cellular wireless camera solutions as a result of its Mobile Viewpoint (MVP) acquisition in 2021, there were now good synergies in place between the Vislink private 5G developments already in progress and the potential to extend the capabilities of its bonded cellular products.
Commonwealth Games 5G Trial 2022
Owing to its success in the prior 5G trials, Vislink was invited to participate in a new 5G private network trial as part of the Commonwealth Games coverage that the BBC was preparing in July 2022. This trial aimed to showcase the ability to deliver roaming camera content from Victoria Square, a busy location in the heart of Birmingham, England.
This trial was to go further than previous tests in that there would be no onsite production. A key requirement would be the need to provide the capability to produce interview-type content for inclusion into BBC national and local programming about the games. Raw camera content was to be contributed from Birmingham to the BBC's broadcast centre in London. This was to be a multi-camera production with two wireless camera feeds perfectly synchronized. With IP-native bi-directional connectivity, the Vislink MVP devices would be tasked with delivering intercom and reverse video links to the camera operator.
With the involvement of BT Media and Broadcast (who provided the 5G cell and backbone internet connectivity from Birmingham to London), a series of test phases was arranged. The objective was to prove the ability to synchronize multiple wireless cameras using NTP timing protocol and validate connectivity between the Vislink 5G camera system and BT's 5G cell before moving on to the live production.
With onsite preparation complete and having performed various tests to demonstrate that the cellular-connected cameras could access both the private 5G and public cellular infrastructure and switch between the different types of network at will, the system went live during the week of the Commonwealth Games.
Vislink 5G equipment operating at the Commonwealth Games
To showcase the technology, the 5G private network camera system would deliver live footage of the arrival of Queen's baton relay in the Birmingham city square, and of live interviews with content distributed on the BBC's premier evening magazine program The One Show.
Vislink 5G equipment operating at the Commonwealth Games
With a groundbreaking combination of a live private 5G network, native two-way IP connectivity and accurate multi-camera synchronization, this trial became yet another world's first remote production private 5G event.
The trials conducted to date have proven the capabilities of 5G networks and how these systems can deliver operational benefits through their closer integration into the IP-native workflows of modern broadcast systems.
Vislink's vision is that private 5G networks will play a significant role in future broadcast infrastructures. Private 5G camera systems have been shown to deliver low latency, high-quality video over uncontended wireless links, with robust bidirectional IP connectivity enabling content to be remotely produced from any connected location.
The success of these trials has not gone unnoticed by the broadcast industry at large. As 2022 drew to a close, Vislink and its partners in the Commonwealth Games deployment were honored to be awarded the Best Innovation Project by industry publication Broadcast Tech.
Vislink and partners receiving award for Best Innovation Project
Vislink 5G 4Live
To spur the growth of this useful technology and allow live production teams to capitalize on the greater operational flexibility, Vislink has now launched the Vislink 5G 4Live solution. This solution creates a complete turnkey private 5G wireless camera solution. It offers the choice of either a hybrid OFDM and private 5G transmitter or a hybrid private 5G and public cellular transmitter system as appropriate Either can be utilized in combination with a 5G private network that can be scaled to match the application.
In recognition of this pioneering work, Vislink is proud to have been recognized with a second industry award (this time from IABM) for pioneering the new possibilities that the Vislink 5G 4Live system brings to the broadcast industry.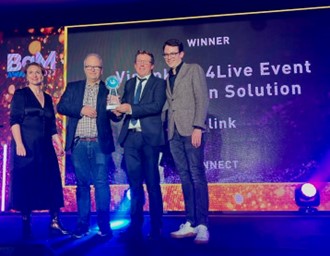 Vislink receiving the IABM award for 5G 4Live solution
While widespread use of private 5G networks in broadcast applications is still to be realized, it is becoming increasingly clear that change is coming to the world of wireless cameras —and that private 5G may well be the key catalyst for that change.